Client
Third party service provider
Project Type
Root cutting, clearing drain network
Equipment Used
Tankering, jetting, CCTV
Location
Ascot, Berkshire
Introduction
Our client, a third-party service provider, asked us to visit a primary school in Ascot, Berkshire to investigate the cause of persistent flooding problem. Heavy rain caused up to 6" of water to collect in the playground at the front of the school, which was very slow to drain away. The school surrounded by mature woodland and is in a natural bowl, which results in silty run-off. Our client asked us to investigate the surface drainage network and to clear any blockages so that they could conduct a full drainage CCTV survey of the site.
Method
The site's surface water drainage network is comprised of Aco style channel drains and a sub-surface network of 110mm uPVC drainage pipe. Silt traps are installed but were not regularly maintained.
Our drainage engineers thoroughly cleared the drainage channels by tankering and jetting before turning their attention to the underground network.
Gulleys and manholes were cleared of roots and silt using suction hose and spades.
Using push-rod CCTV equipment they discovered that many sections were partially or completely blocked by tree roots varying in size from very large tap roots to dense mats of fibrous roots.
High pressure jetting with a cutting nozzle was used to break up the roots as much as possible and these were flushed or pulled through the pipes into access points where the material could be removed. Some tap roots were very thick and needed to be sawed through.
Silt traps and catch pits were emptied and thoroughly cleaned.
Once the roots were cleared, coloured dye was used to trace the route of the drainage network.
Results
The site's surface water network should drain freely now, so that the playground does not flood during heavy rain.
The network has been cleared so that our client can conduct a full drainage CCTV survey of the network.
No excavation was required.
FOCUS ON
Root cutting
Roots are a common cause of blocked drains. They exploit damages pipe or defective joint to get inside the pipe and once in can restrict or even block flow, and can exacerbate damage.
A variety of techniques can be used to clear roots from pipework, including high pressure jetting and mechanical cutting.
It's important to remember that unless the original defect is addressed, the problem (and the cost) will recur. Trees are often cut down needlessly when the best solution is a pipe patch or relining.
For further information or to schedule a visit, contact Neil Cox at ncox@edincare.com or 01442 211554.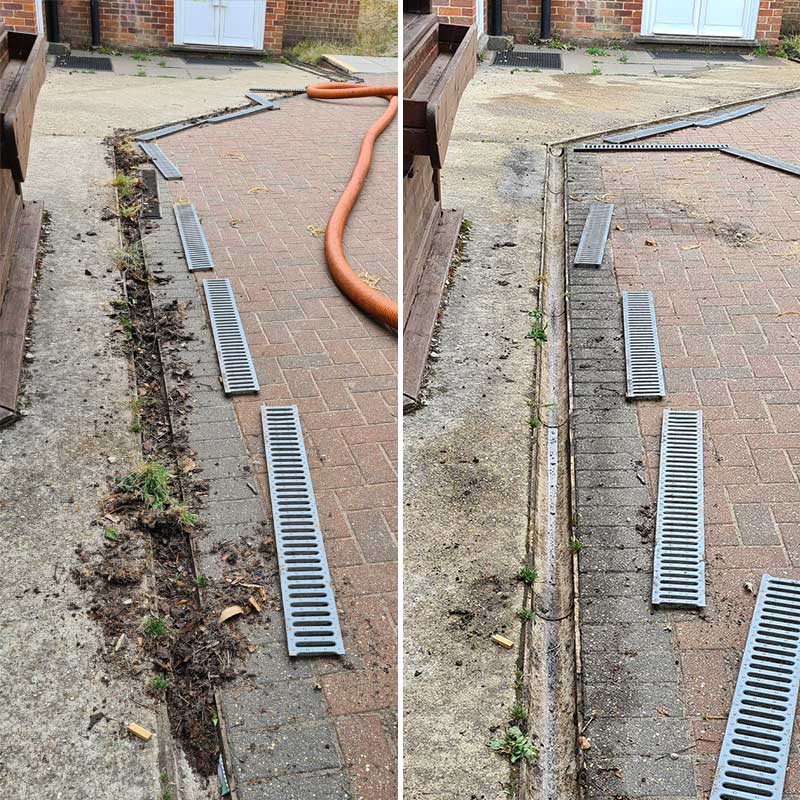 Due to the site's topography, silting is a significant problem.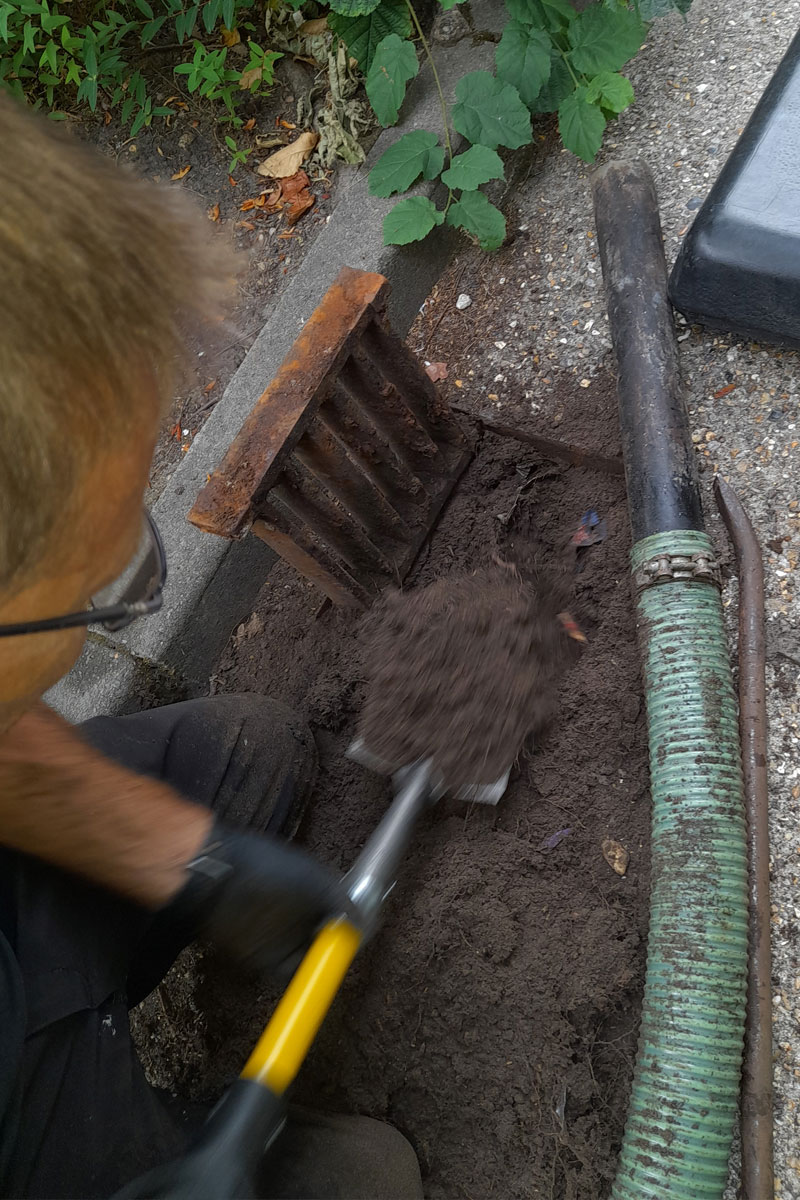 Manually removing soil from a gulley.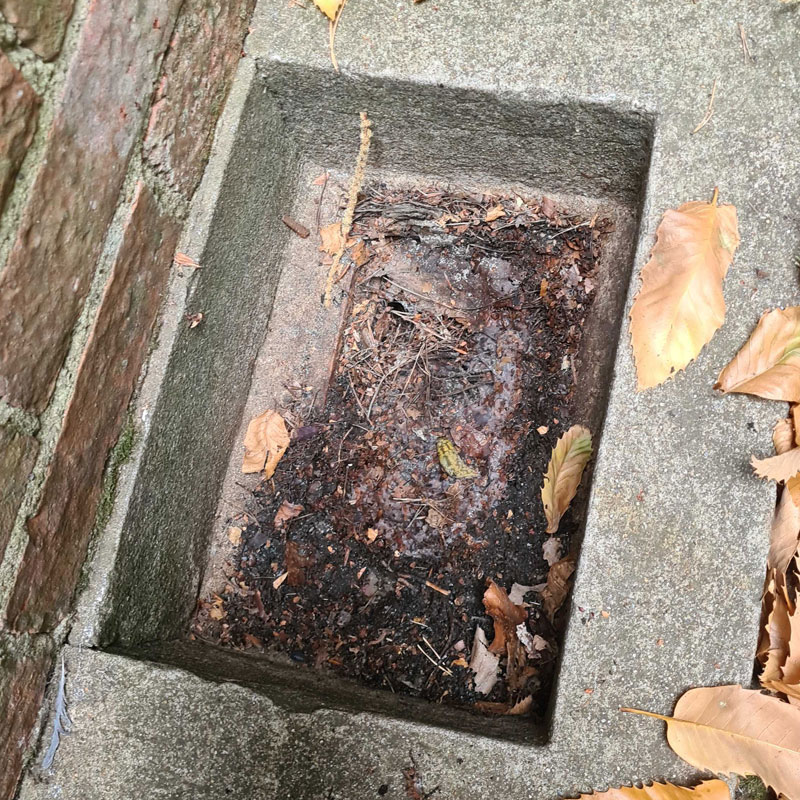 A gulley full or soil matted with leaf litter and fine fibrous roots.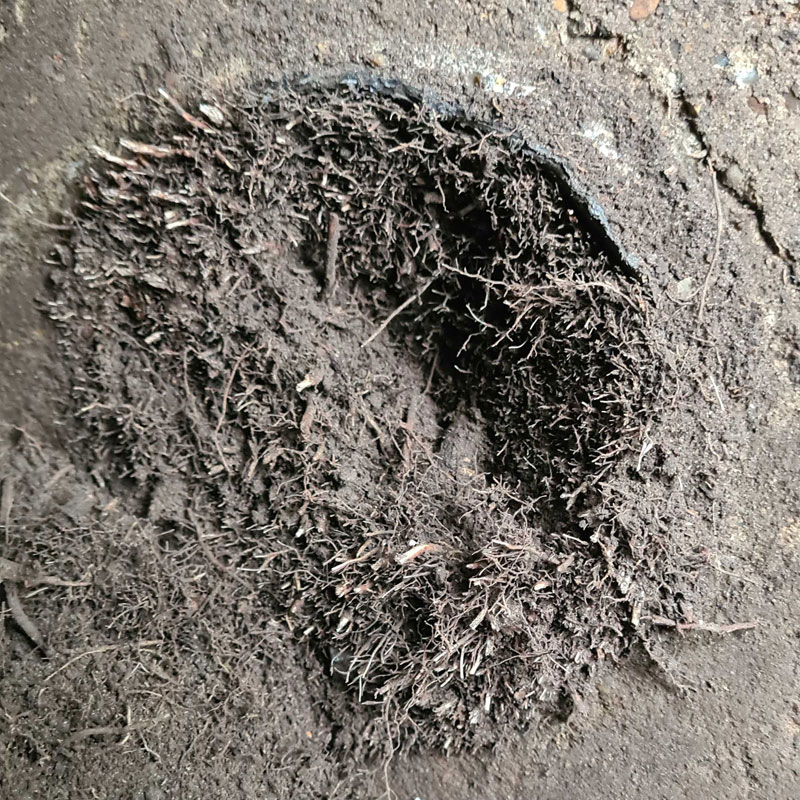 This pipe had been completely occluded by roots.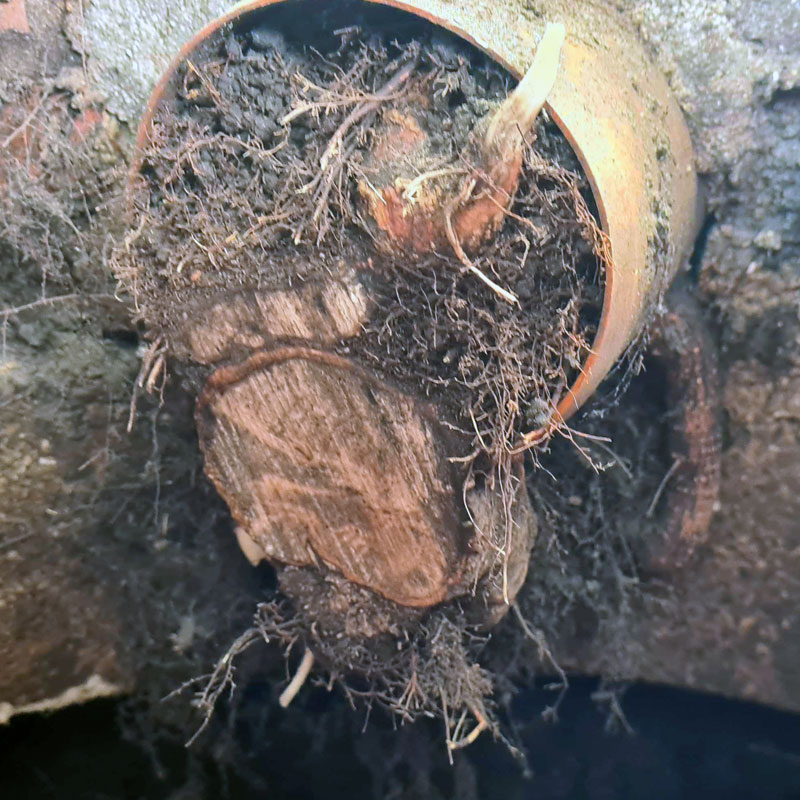 A thick tap root.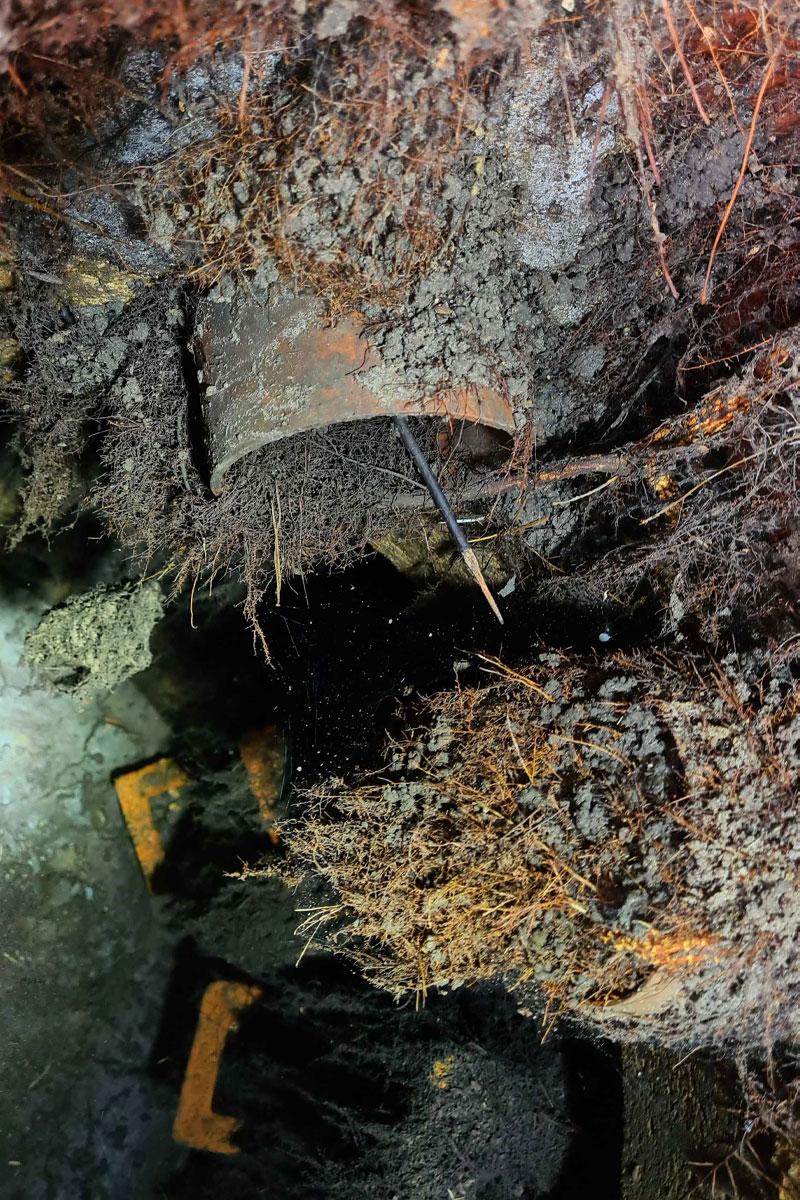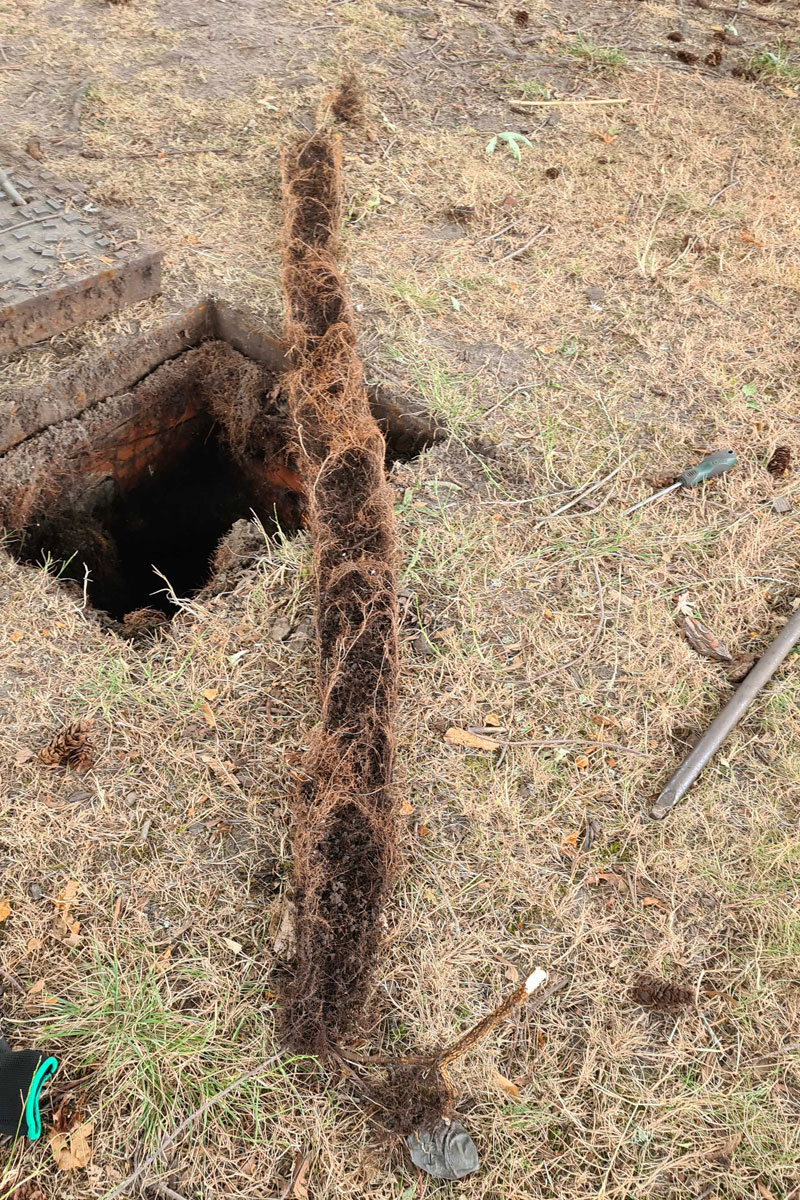 Approximately 2 m of root mass pulled from one pipe.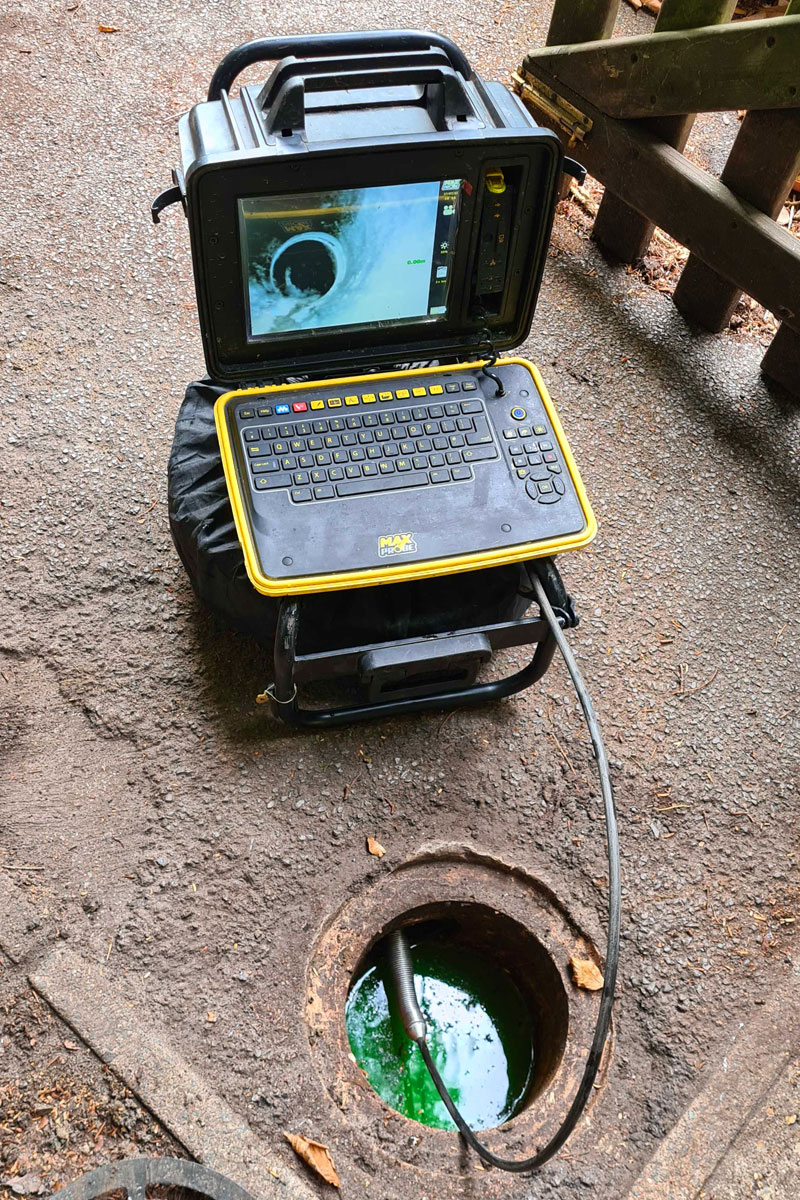 Push-rod CCTV.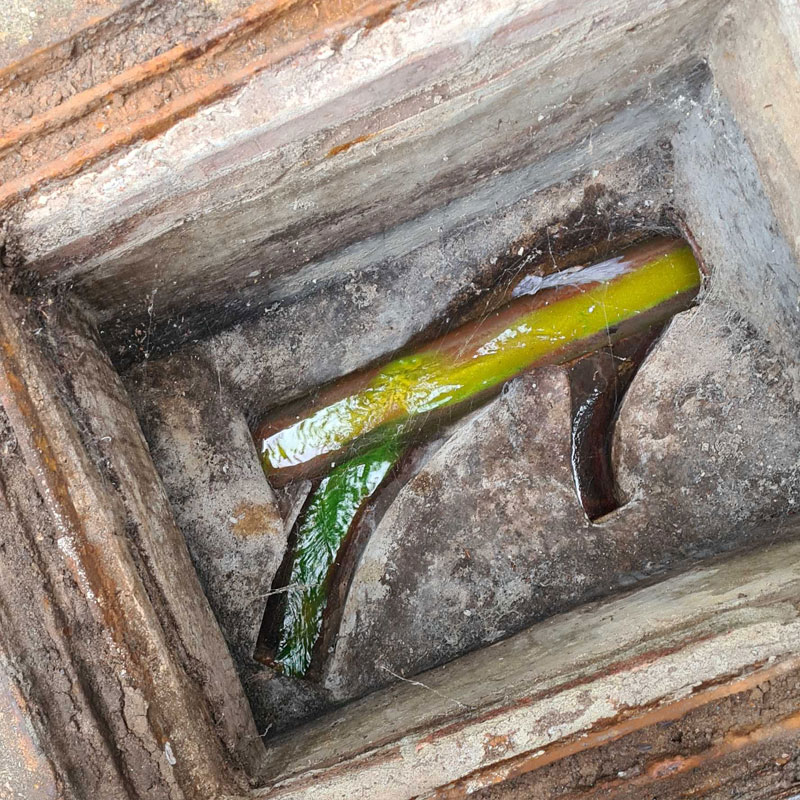 Coloured dye was used to trace the route of the drainage network.